Bold Contender started her Dressage training as a three year old in September, 1988. In 1989 she was AHSA Zone IV Training Level Champion.

Each show season saw continuing success as she worked her way up the levels. In 1992 she won every class she entered at 3rd and 4th Level. She made her debut into FEI Prix St. Georges in 1993, at age eight, and was placed first on five occasions, along with winning the USDF Prix St. Georges Adult Open that year! Wow!

In 1995 Bold Contender was competing and winning at Grand Prix. She took part in the selection trials for the U.S. Olympic Dressage Team for the Atlanta Olympic Games in 1996; Jelsche was long listed for the team!!!

She was awarded Star status based on her Dressage performance, and won numerous USDF All-Breed Awards for best Friesian, including 1st place for Prix St. Georges & Intermediate I in 1998, 1st place Grand Prix in 1994, 1995 & 1996, along with Musical Freestyle Grand Prix in 1996.

Her long career in the Show Ring did not allow her time for any foals. In order to preserve her legacy, pass on her great Dressage ability and work ethic to the Friesian breed she was successfully bred and had two embryo transfers foals, sired by FPS/FHANA approved Stallion Feike 395.
As of March 2011, Jelsche was contentedly living out her senior years in Stillwater, Minnesota. She is owned and loved by Dr. Ros Randall.
Note: Jelsche passed away November 9, 2011 at the age of 26 years.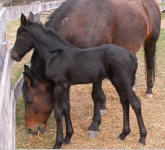 Bold Contender's filly born in 2004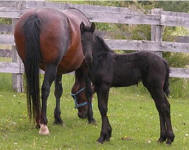 Bold Contender's filly born in 2004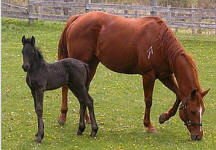 Bold Contender's colt born in 2004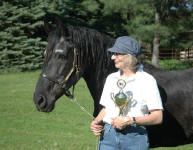 Jelsche Age 25
& her owner Dr. Ros Randall
Photo taken 05/19/10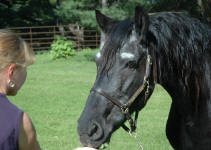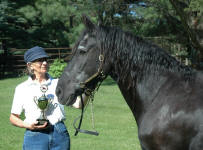 Jelsche with her FEI Accompliment Award in 2010
& her owner Dr. Ros Randall
Photo taken 05/19/10